Our Mission & Vision
Mission Statement: Bible Christian Church seeks to provide Arkansas City and the surrounding area with a congregation that's a spiritual family who is Christ-centered…Bible oriented…love motivated…prayer-activated… and where each desiring family member can grow to their full potential in Christ.
Our Motto: Faith Family Fellowship
Bible Christian Church is a non-denominational, Bible-believing, fellowship of Christians. We are a part of a brotherhood that desires unity with all who acknowledge Christ as Lord. We are a free congregation, independent of outside control. We have no human creeds, no national headquarters, no human head. We attempt to be Christians only, nothing more, nothing less.
Our members come from a wide variety of backgrounds and doctrinal persuasions but have found oneness in Christ. We are ex-Catholics, Presbyterians, Methodists, Baptists, Lutherans, Charismatics, and whatever else you can think of! All those whose trust and confidence in Christ have led to obedience to Him will find in our fellowship an open heart, an open communion table, and a warm welcome.
We believe in the basics of the faith – the virgin birth of Christ, the deity of Jesus, the indwelling and ministry of the Holy Spirit, the bodily resurrection, and the return of our Lord. We believe that what made one a Christian in the New Testament makes one a Christian today; Faith in Jesus Christ as God's Son, Repentance from sin and turning to Christ, Confession of our faith in Christ publicly and Baptism (immersion) into Christ for the forgiveness of our sins (Acts 2:38). We then receive the Gift of the Holy Spirit. We believe that the Bible is God's inspired Word and our only rule of faith and practice.
Our History
Bible Christian Church had its beginning on December 8, 1964 when 15 persons met for the purpose of establishing a church after the New Testament pattern.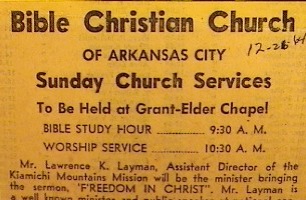 By April 20, 1965, 22 had become charter members. The first meetings were held at Grant-Elder Chapel and Hope Chapel both on A street in Arkansas City. Services were then held at 1005 South Summit until June of 1967.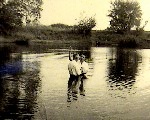 On June 4, 1967 the church dedicated its first building at 1625 North 7th Street.
With added expenses and loss of membership, the church struggled during the late 1960's. Eastern Heights Christian Church in Ponca City, Oklahoma came to the rescue of Bible Christian Church by helping to obtain a minister and assist in paying the salary of the minister for over a year.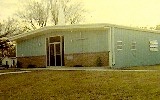 In September of 1970, H. Dean LaVelle was called to be the minister/evangelist for Bible Christian Church. In March of 1972, the church was self-supporting, had purchased a parsonage and was showing a steady growth.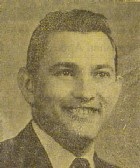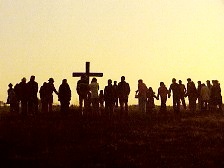 In 1977, the church purchased 9.3 acres of ground and dedicated its present building on September 9, 1984.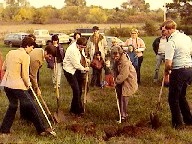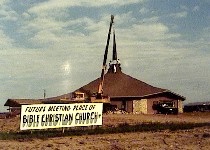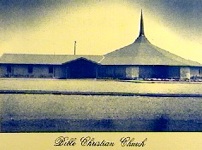 On Easter Sunday, April 11, 2004, ground was broken on the Family Fellowship Center. Facilities include gymnasium, classrooms, and a full kitchen.
Dedication services were held on Sunday, April 11, 2010.